An advanced, reliable hardware switched MIDI routing system with low data distortion and delay, unlike nearly all other routers which use software or time multiplexed techniques leading to degraded performance as the size or traffic increases. The total delay through any MIDIX matrix is less than 200 nanoseconds with a pulse distortion less than 0.7% regardless of matrix size. MIDIX will handle any MIDI Data passed through it with total integrity.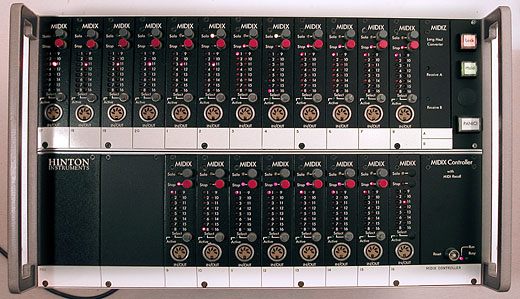 The original MIDIX pictured above was a sixteen bus hardware routing system expandable to a 16 input 24 output system in a 6U rack. It introduced several innovations: Safe Switching, user definable Solo and Illegal Groups, Clear Events, Panic messages and MIDI Recall. Our latest systems keep all the software, but are higher density in a smaller space. A MIDIX30 is a 30 input x 30 output matrix in a 3U rack.
Standard features:
Manual, MIDI and RS232 Control by computer or terminal.
Compatible with all computers, not just Macs or PCs.
LED activity indicators on all inputs and outputs.
Presets and Chained Preset sequencing.
Safe Switching of Presets between MIDI messages so that Data is not separated from its Status or otherwise corrupted.
A definable Clear Event for each Output, automatically transmitted after any disconnection.
Clear, Panic and Hold buttons/footswitch for emergencies.
Definable Illegal Patching for each Output to prevent possible feedback situations.
All Inputs and Outputs may be given 16 character names and all Presets 20 character titles.
MIDI RECALL requests, captures and saves System Exclusive Blocks between any MIDI equipment connected to the Matrix and any computer with RS232 communications.
VT100 compatible paged displays show Matrix status or can Monitor selected MIDI activity in plain English.
Capacitor/NVRAM Backup - no batteries to replace ever.
Multi-MIDI DB25 ports for easier connection.
Field servicable.
Hinton Instruments has been supplying MIDI Routing Matrices since MIDI began. The early custom modular MIDIX-16 systems have now been superceeded by MIDIX-HD which use our own custom chips to provide up to a massive 120x120 matrix in 6U rack space. The performance and control software of all these systems is the same, only the size of the matrix varies. Any size from 15x15 in 5 port increments may be produced with I/O on 25 way D-types and/or individual metal 5 pin DINs (subject to panel space).
Optional features:
Standalone front panel controls.
Remote control unit.
Integrated MIDIY Mergers
SMPTE/EBU Time Code reader/generator and MTC converter.
All settings are saved in non-volatile memory so the computer is optional once configured, but may still be used for normal operations. RS232 ports allow complete control, setup and dumps via computer, terminal or intelligent terminal with VT100 capability.
Software (Version 3.2 September 2010):
Number of Patches: 50 equatable to any MIDI Program number.
Number of Events: 50 x 320 bytes, free format.
Chain maximum length: 50 Patches, any order.
System Exclusive Buffer Size: 16kb.
Patch name size: 20 characters.
Input/Output name size: 16 characters.
Event name size: 16 characters.
RS232 protocol: 38.4kBd, 8 data bits, No parity, 2 stop bits, XON/XOFF.
Three level computer control: Computer, Dumb Terminal or VT100 protocol.
VT100 compatible paged displays:
Status, Configuration, Monitor, Filter.
Download the MIDIX30 User Manual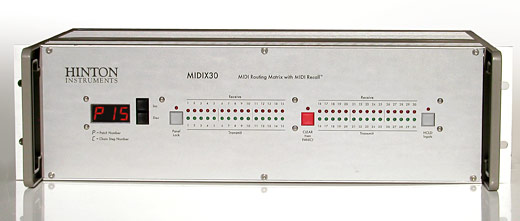 These products are currently undergoing a complete redesign to meet new RoHS regulations. Please enquire regarding availablility. We can also build custom MIDI equipment to your requirements.